Next course starts 8. May 2020 in tallinn.
INTERNATIONAL

DOG TRaINER SCHOOL
The course is taught during 10 weekends, Saturday and Sunday, in addition to monthly webinars. The course is open to all above 18 years of age. Approx. 150 hours of compulsory teaching in addition to compulsory reading. Upon successful completion of the course, you will be awarded a Diploma.
The course will be taught in English. All reading materials and assignments will be in English. 
a truly international school
Be a part of our international environment with professional teachers, dog trainers, behaviourists, veterinarians
and physical therapists from Norway, Denmark, UK and Belgium.
Over the past years we have had students from Estonia, Latvia, Lithuania, Denmark, Finland, Russia, UK and USA.
The course and all reading materials and assignments are in English.
Do you want to become a professional dog trainer and specialize in the field of behavior and a dog's natural, silent language and calming signals?
Do you want to work part-time or full-time training dogs and owners and also work as a behaviorist helping owners through private consultations?
Or are you already a dog trainer and want to specialize and aquire more science based knowledge? If you answered yes to any of these questions, this education might be the right one for you! This high quality education will give you excellent practical and theoretical skills of dog training and dog behavior. Upon completion, you can start your own business or be qualified to work for other dog training schools and institutions.
We teach only positive training methods, with an emphasis on the dog's natural behavior.
Information about the course
Subjects
Dog behavior: the dog's silent language, body language, communication, dog development and ethology, history, puppies, adolescent, mature dogs, social developments, critical periods, hormonal influences, breed characteristics, problem solving, stress, fears, aggression, health and nutrition.
Learning theory: positive training methods, desensitization, motivation, comparisons of dog learning to human learning, classical and operant conditioning, positive reinforcement.
Practical training: problem solving, observation, positive training methods teaching basic obedience and more challenging tasks like desensitization for stressed dogs and dog-to-dog aggression.
Physiology: anatomy, movement, how exercises influence behaviour and massage techniques.
The dog trainer: how to design your courses, counsel individuals and motivate owners, instruction and observation techniques as well as building confidence as a public speaker, marketing and running your own small business, customer service and pedagogy for humans.
Exam:
Presentation of a project.
The course will be taught in English, and all reading materials and assignments will also be in English.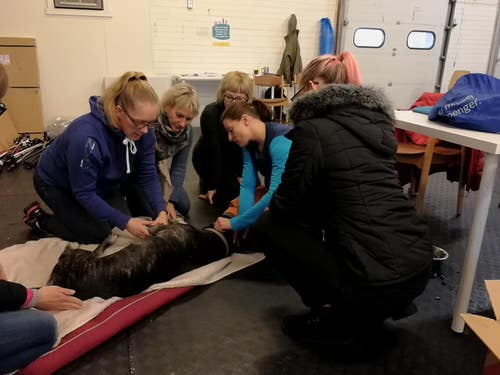 Course syllabus
The course is based on the latest research and science of dog training and behaviour.
Theory:
Dog development, history and ethology
Dominance and leadership: facts or fiction?
Learning theory dogs
Classical and operant conditioning
Calming signals and body language
Science based positive dog training
Dog-to-dog communication
Dog social organization
Stress in dogs
Critical periods and hormonal influences
Behaviour problems: fear, anxiety and aggression
Problem solving: desensitization
Anatomy and movement
Massage techniques
Training techniques walking on loose leash
How to design courses
Pedagogy for instructors
Consultation techniques
Instruction and observation techniques
Starting up a small business
Practical training:
Observation of body language and calming signals
Loose leash walking and passing other dogs nicely
Training methods basic obedience
Social walks and enriched environment
Movement 
Massage techniques
Interactive learning with class discussions, films, practical training, cases studies: problem solving, observation of dogs and behaviour. Group work and individual assignments.
The course will be taught in English, and all reading materials and assignments will also be in English.
The course syllabus may be subject to small changes.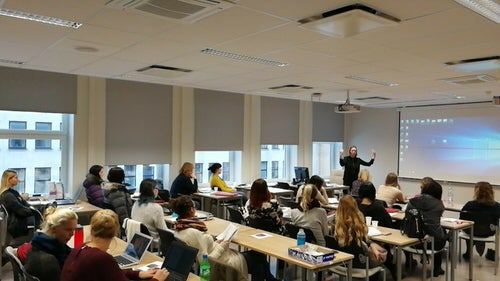 Information in Estonian
Information in Estonian: Please note that all theachings and books will be in English.
Kas Sinu unistuseks on saada koeratreeneriks ja õppida põhjalikult tundma koerte kehakeelt,käitumismaneere ja nende põhjuseid? Kas Sa sooviksid tegeleda täis-või osalise tööajaga koerte treenimisega ning ka käitumisspetsialistina, aitamaks koeri ja koeraomanike läbi eratundide? Kui Sa vastasid jaatavalt kas või ühelegi nendest küsimustest, oled Sa jõudnud täpselt õigesse kohta!
Rahvusvaheline Koeratreenerite Kool annab Sulle põhjalikud teadmised ja oskused koerte treenimises, mis võimaldavad sul alustada tööd koeratreenerina omal käel või koertekoolis.
Me kasutame vaid positiivset treeningmeetodit ning põhirõhk langeb koera loomuliku käitumise mõistmisele, analüüsimisele ning selle kasutamisele treeningutel.
Ühe aastane kursus koosneb kümnest nädalavahetuse moodulist Tallinnas.
Kursusel käsitletakse järgnevaid teemasid:
Koerte käitumine: Vaikimisi signaalid, kehakeel, suhtlemine, koerte arenemine ja etoloogia, ajalugu, kutsikaiga, "teismeliseiga", täiskasvanud koerad, sotsiaalne areng, kriitilised perioodid, hormonaalsed mõjud käitumisele ja õppele, tõugude erinevused, käitumisprobleemide lahendamine, stress, hirmud, agressiivsus, tervis ja toitumine.
Koerte treenimine: Positiivsed treeningmeetodid, tundlikus ning olukordade, esemete, häälte jms reageerimise vähendamine, motivatsioon, inimeste ja koerte õppimise võrdlemine,
Praktilised harjutused: probleemide lahendamine, koerte käitumise,kehakeele ja signaalide jälgimine, positiivne treeningmeetod, põhikäsklused ja ka keerukamad ülesanded, nagu stressi ja koertele suunatud agressiivsuse vähendamine.
Koerte treenimine: Kuidas kursusi ja seminare üles ehitada, eratunnid ja omanike motiveerimine,publiku ees rääkimine, turundus ja oma ettevõtte juhtumine, klienditeenindus ja koeraomanike õpetamise pedagoogika.
Praktiline informatsioon:
Kestvus: 9 nädalavahetust (laupäev ja pühapäev)
Toimumiskoht: Tallin
Hind: 1650 EUR
Õpe toimub inglise keeles.
Õpetajast
Norrast pärit koeratreener Lisbeth Borg de Waard (MA, BBA), omab edukat koertekooli Innlandet Hundesenter. Ta abistab sadu koeraomanikke aastas, läbi erinevate kursuste, teooriatundide ja seminaride. Lisaks sellele, on Lisbeth kirjutanud raamatu "Title", praegustele ja tulevastele koeratreeneritele, treeningmeetoditest ja printsiipidest, millest Lisbeth on ka loonud seminari seeria Norras ja mujal maailmas.
Lisbethil on 14 aastat tegelenud koertetreenimise ning käitumise analüüsimisega ning elab oma maakodus oma abikaasa, 5 koera, 5 kassi ja kanaga.
Enne koeratreeneriks saamist, töötas Lisbeth õpetajana, nii ülikooli kui ka gümnaasiumi tasemel. Ta kolis tagasi Norra aastal 2000, peale 11 aastat välismaal elamist, millal Lisbeth õppis ja töötas erinevates riikides üle maailma. Lisbeth on diplomeeritud koeratreener ja on omandanud koeratreeneri hariduse tuntud Turid Rugas käe all ning lisaks sellele on spetsialiseerunud koerte käitumisele.
Lisbeth on Norra esindaja PDTE-s (Lemmiklooma treenerid Euroopas), aktiivne liige APDT-s (Proffessionaalne Koeratreenerite Ühing), ja SGEH asutaja (Skandinaavia Koerte ja Eetika grupp).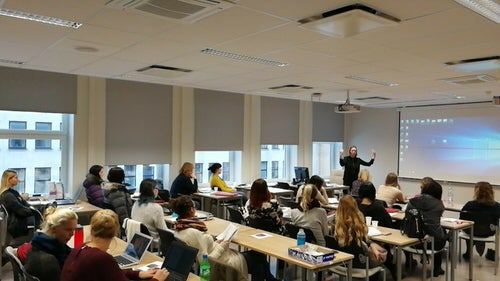 Price and payment
Price: Euro 1 700,-
Deposit Euro 250,- due 6 weeks after accepted admittance and signing of contract.
Euro 1450,- due March 1, 2020 at the latest.
Tuition includes all teachings in Tallinn and webinars.
Tuition does not include: travel expenses, books and lunch.
All our students gets a student-discount on all our external courses in Estonia and other countries.
Unfortunately part-payment is not available for our international courses.
Practical information and course dates
Course dates 2020/21:
8. – 9. May 2020 (start)
20. – 21. June
8. – 9. August
12. – 13. September
24. – 25. October
5. – 6. December
16. – 17. January (2021)
20. – 21. February (2021)
18. – 18. April (2021)
15. – 16. May (2021)
Saturdays 10.00 – 17.00
Sundays: 10.00 – 16.00
Place:  Tallinn, Estonia
Webinars will be held on Thursday evenings. The dates for the webinars will be available before the course starts.
Course litterature
Mandatory readings
Rugaas, Turid (2005). On talking terms with dogs: Calming Signals.
Shelia Harper Ltd.
Eaton, Barry (2010). Dominance in dogs: Fact or Fiction? Dogwise Publishing
Bekoff, Marc (2018). Canine Confidential. University of Chicago Press.
Bekoff, M., Pierce, J. (2019). Unleashing Your Dog. New World Library. 
Bekoff, Mark (2008). The emotional lives of animals. New World Library
Hallgren, Anders (2015). Ethics and ethology for a happy dog. Cadmos Publishing Limited
Hallgren, Anders (2012). Stress, anxiety and aggression in Dogs. Cadmos Publishing Limited
Lowry, Rosie (2011). Understanding the scilent communication of dogs. Lowry Industries Ltd
Rugaas, Turid (2008). My dog pulls. What do I do? Dogwise Publishing
Rugaas, Turid (2008). Barking, the sound of a language. Dogwise Publishing
Recommended readings
These are books that I recommend, but you do not have to read them for the course.
Spiers, Winkie (2009). How to handle living with your dog. Short Stack Publishing
Bradshaw, John (2011). Dog Sense. Basic books 
VanFleet, Risë (2013). The human half of dog training. Dogwise Publishing
Donaldson, Jean (2013). The culture clash. Dogwise Publishing
Bradshaw, John (2011). In defence of dogs. Penguin Books
Robertson, Julia (2011). Exercising your puppy: a gentle & natural approach. Veloce Publishing Ltd
Robertson, Julia (2010). A complete massage manual: Gentle dog care. Veloce Publishing Ltd
Hallgren, Anders (2007). Mental activation. Cadmos Equestrian
Jensen, Per (2009). The ethology of domestic animals. CABI Publishing
Cutka, Dagmar (2010). Safe and sound with dog and child. Cadmos Books
Mary R. Burch.(1999). How dogs learn. Macmillian 
Adams, J., Miller, A. (2012). Between dog and wolf. Understanding the connection and the confusion. Dogwise Publishing 
Donaldson, Jean (2010). Dogs are from Neptune. Dogwise Publishing
Bekoff, Mark (2013). Why dogs hump and bees get depressed. New World Library
Stilwell, Victoria (2014). Train your dog positively. Teen Speed Press
Bekoff, Marc (2007). Animals matter. Shambhal 
Sapolsky, Robert M. (2004). Why zebras don't get ulcers. St. Martin's Griffin
During the course this list can be revised and you can get other recommended readings as new books are published.
Say hello to our teachers
Main teacher for the International Dog Trainer School. 15 years experience with problem solving and problem behaviour in dogs. Sertified dog trainer from the world famous international dog trainer Turid Rugaas. Former college-university teacher in Norway.
Els is a trained physiotherapist and osteopath and director of the Belgium based organisation, FreeDogz Education Dog School.
Els is passionate about canine welfare and improving relationships between dogs and their owners. 
Specialities: animal welfare, dogs and childeren, dog language and behaviour and writing skills for professionals in English and Norwegian.
Developing courses for the Norwegian army, police and paramedics in addition to teaching at the Norwegian dog trainer education.
Specialises in pedagogy, instruction methods, course quality and first aid for humans and for dogs.
Working for Innlandet Dog Center and as a teacher in high school.
Specialities: animal welfare, dogs and childeren, dog language and behaviour and writing skills for professionals in English and Norwegian.

Guest speakers Tallinn 2020 – 2021
Amber Batson, England
Amber graduated from the Royal Veterinary College, London as a veterinarian and surgeon in 1999, earning several medals for best overall achievement during her final year. She has always had a keen interest in animal behaviour and has undertaken several years of part time study alongside her veterinary career to become an equine, feline and canine behaviourist. Amber has researched companion animal welfare, including subjects relating to responsible pet ownership, and psychoneuroimmunology, a branch of veterinary medicine that deals with the influence of emotional states (such as stress) and nervous system activities on the immune system.
She has undertaken voluntary work for international animal charities including a position as welfare consultant for WPA. She lectures on animal behaviour and welfare education for owners and animal professionals, including the veterinary profession, in multiple European and Asian countries.
Her aim is to improve scientific understanding of behavioural issues, at a practical level for pet owners and animal professionals. Her talks are always very popular.
Anne Lill Kvam
Anne Lill Kvam's passion has been training dogs for search and rescue sinde 1986. Student of Turid Rugaas's school, she has worked as a full time instructor since 1996. From 1997 to 2000 she worked in Angola for the "Norwegian Peoples Aid" organization for the clearing of anti-man mines. She was responsible for the instruction of the dogs and their conductors as well as supervisor in the operations of mine removal. Anne Lill has her own dog training school in Norway, China and Taiwan and is a highly sought after international speaker in the fields of scent discrimination, behaviour and problem solving.

Winkie Spiers, England (webinar)
British dog trainer and behaviourist. Honorary Member and current Chair of PDTE (Pet Dog Trainers of Europe).Full Member of APDT (Association of Pet Dog Trainers), ABTC (Animal Behaviour and Training Council), BTPA (Bowen Therapists Professional Association), ECBS (European College of Bowen Studies) and Association of INTO dogs.
Karen Webb, England (webinar)
British dog trainer and behaviourist educated at Turid Rugaas International Dog Trainer School in the Netherlands. Full Practitioner of Applied Zoopharmacognosy Dip.IAZ in all species. Canines. felines and equines. Board member of the PDTE (Pet Dog Trainers of Europe).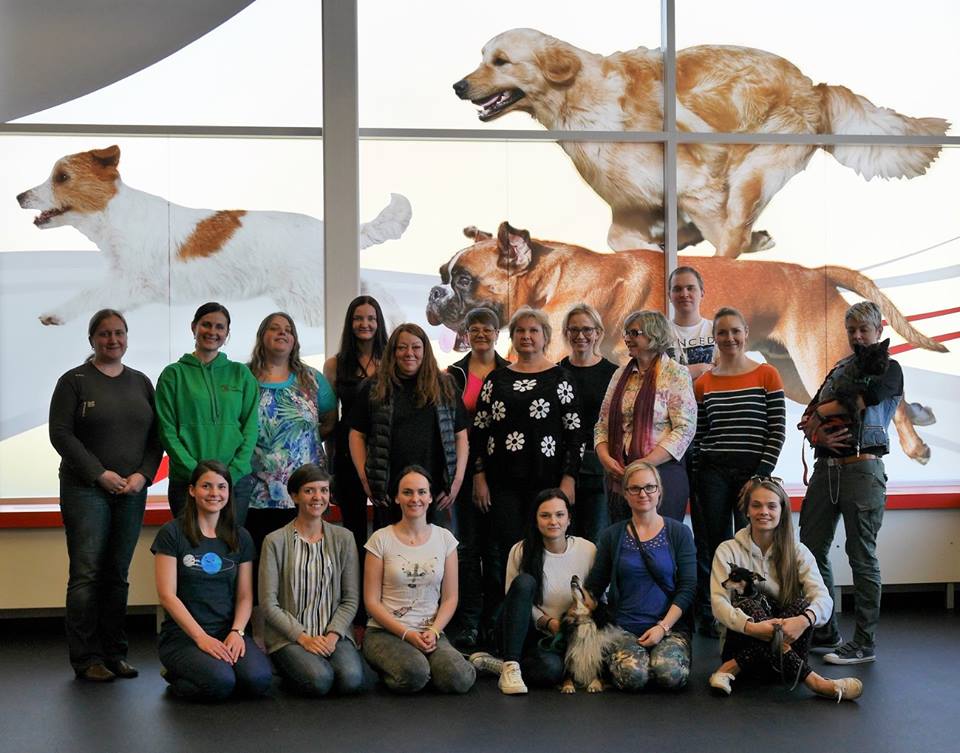 International Dog Trainer School
Starts it's 4th course in Tallinn the 8th of May 2020.
Welcome!
or call us at + 47 99 04 28 03.
You can also send a message in the form bellow.
unghund kurs 15-18 måneder 
- for deg med en tenåring i hus
avdeling skedsmo
Tomtveien 12, 2015 Leirsund